Cardiff's latest attraction – 150mph Zip line
Published: Wednesday 1st Apr 2015
Written by: Gareth Mahoney
Just over a week since business leaders in Cardiff announced a feasibility study was being carried out on a cable car system linking Penarth and Cardiff Bay and that sea planes could be landing there in the near future it has been announced a new Zip wire is currently being built from Penarth, across Cardiff Bay.
The new zip wire would ensure commuters can bypass the usual forms of transport and knock half an hour off the usual peak time commute.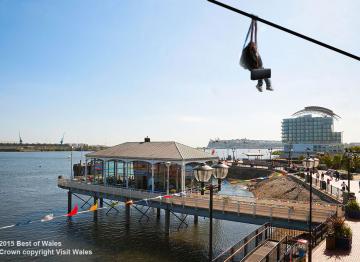 new 150mph Zip Wire in Wales © 2015 Best of Wales © Crown copyright Visit Wales
Zip wires have long been a popular tourist attraction in other parts of Wales but this is the first time they will have been designed to carry commuters during the morning and evening rush hours. It will also be open at other times as a general tourist attraction.
Lisa Jenkins from Best of Wales was keen on the idea…." From a tourism perspective Best of Wales has hundreds of guests coming to South Wales each week and any such attraction would be another attractive option. Cardiff is a popular destination all year round and any initiative that can aid tourism and also reduce traffic with less commuters on the roads at peak times can only be a good thing."
Local resident Ebrill Jones  also welcomed the new scheme. " Its quite exciting and I'm looking forward to trying it out. I'm sure it will be another great tourist attraction for Wales."
Best of Wales is an award winning self catering accommodation provider with hundreds of properties all over Wales including apartments, lodges, cabins, farmhouses, country houses and holiday cottages in Wales. For more information visit www.bestofwales.co.uk