An active start to the New Year
Published: Thursday 2nd Jan 2014
Written by: Gareth Mahoney
Walking in North Wales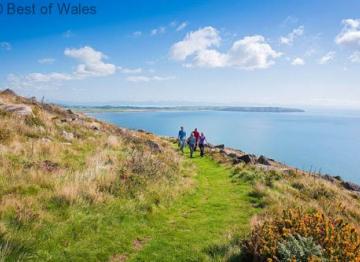 That's it then for another year. The Christmas fun and festivities are over. If you're like me, you may be sorry now that you ate so many mince pies.
So it's time to start thinking of getting back into shape after all over-indulging. Start the New Year as you mean to go on and plan some great outdoor holiday breaks to get you active again….an exhilarating walk in the Brecon Beacons or along the All Wales Coast Path, filling your lungs with sea air? (Cadw, the Welsh Government historic environment organisation have come up with a novel way to get us fit in 2014 – they are encouraging us to visit all 14 castles situated along the Welsh coastline on foot!) A few rounds of golf at one of Wales' prestigious golf courses?  Or how about having a go at mountain biking at the brand new Bike Park Wales, in the heart of South Wales, which caters for absolute beginners as well as experienced cyclists? Or you might just want to try something new, like the fast-growing adventure sport of coasteering, guaranteed to get your heart pumping.
Wherever you go in Wales, you are never far from a Best of Wales cottage, so to help you plan your New Year activity break, go to http://www.bestofwales.co.uk  for more information, or give us a call on 01650 511101.