Best of Wales' Best Kept Secrets heads to Devil's Bridge
Published: Monday 2nd Feb 2015
Written by: Gareth Mahoney
This is the third in our series of blogs 'Best of Wales' Best Kept Secrets'. And today we head to the owner of a recent addition to the Best of Wales family, Ger y Faen.  Ger y Faen located in Devil's Bridge near Aberystwyth is a wonderful holiday cottage in Wales ideal for relaxing, set in glorious countryside the cottage has a lovely wood burning fire and sauna. Devil's Bridge and the surrounding Cambrian Mountains is an area renowned for its natural beauty, 3 bridges, waterfalls and steam trains.
We've all read the guide books but here Edryd (a true local) gives his insight into the area: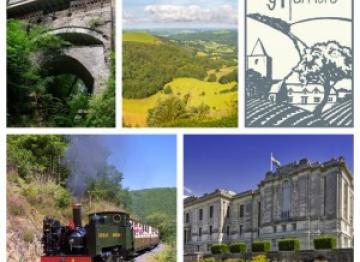 1) What is your favourite local walk
We are spoilt for choice of walks in this area and Devil's Bridge is proud to be a designated Walkers are Welcome area. One of my favourite walks is a short walk (30- 40 minutes) from the cottage, a lovely evening walk to see the sunset and we have the route mapped out for our guests. Another walk, again starting from the cottage, is a 3 to 4 hour walk along public footpaths down to the Rheidol Valley cross the Rheidol River and climb to the village of Ystumtuen then head to Parsons Bridge and climb to Ysbyty Cynfyn church and following the road back to Devil's Bridge and back to the cottage.
We are keen walkers so would have enough ideas to keep you happy for days!
2) Where would you head to on a sunny day?
We are spoilt for choice in this area, as a keen walker I would head to the summit of Pumlumon (the highest point in the Cambrian Mountains). However if you enjoy the coast, another great place to visit is Aberaeron. Take a drive along the coast road to this beautiful seaside town and enjoy the famous Honey Ice Cream.
3) Best day out for children?
We are lucky enough to have the Vale of Rheidol Railway right on our doorstep, take the journey through the Rheidol Valley to Aberystwyth. Another great day out for the children is Nant yr Arian Visitors Centre (only a few miles away), here you can mountain bike, walk, or watch the red kites being fed.
4 Best place for cake?
Cwtch Cafe in the nearby village of Pontrhydygroes is a must, have your tea served in vintage tea cups and enjoy a great choice of home made cakes. Head to the nearby Miners Bridge for a nice forest walk before or after your tea.
5 Best place to visit on a rainy day?
Head into Aberystwyth and visit the National Library of Wales, an imposing building over looking the town you'll get great views (even on a rainy day). Or another great option and one we love is to head to Y Caban in Devil's Bridge and visit Sarah Bunton Chocolates – yes we are lucky enough to have a chocolate maker at Devil's Bridge. Watch the award winning chocolates being made and of course you'll have to sample a few too.
6) Somewhere off the beaten track?
Take a drive to Teifi Pools, a group of lakes near the village of Ffair Rhos and the source of the River Teifi. This area is a remote but spectacular area of the Cambrian Mountains and well worth the drive. Teifi pools are also renowned for great fishing.
7) Best place for a meal?
Our two favourite places to eat locally are The Ffarmers in the village of Llanfihangel y Creuddyn and the Halfway Inn Pisgah. Both are traditional country pubs and the Halfway was even used as a filming location for the popular TV series Y Gwyll (Hinterland). The Ffarmers is also a place that gives you a real Welsh welcome, from the local produce on the menu to the welsh hospitality you will receive.
8) Favourite local place?
The Hafod Estate in Cwmystwyth is recognised as one of the finest examples in Europe of a Picturesque Landscape. With Gardens, walks, bridges and something to see around each corner the beautiful Hafod is a must when visiting us at Ger y Faen.
9) Any other tips for your visitors? 
A visit to Devil's Bridge is not complete without a visit to the spectacular Waterfalls and three bridges (built on top of each other). Famous World wide, the legend is that the devil built the first bridge – you can make up your own mind whether you believe this!
We are so lucky to live in such a beautiful area and on top of everything i've mentioned there is still lots to do in the area including a visit to Elan Valley Reservoirs and Visitor Centre, Horse Riding or just relaxing in the grounds of Ger y Faen in a peaceful location. We look forward to welcoming you to Ger y Faen.
For more details on Ger y Faen head to our website.