Best of Wales donates £452.00 to Cerddwn Ymlaen
Published: Monday 14th Jul 2014
Written by: Gareth Mahoney
We are pleased to announce that Best of Wales has donated an £452.00 to the Wales Air Ambulance as part of the Cerddwn Ymlaen campaign. From the 12th June – 12th of July Best of Wales committed to donating £2 from every booking made on www.bestofwales.co.uk  to the worthy charity.
On Saturday evening at the celebration event for the end of the Cerddwn Ymlaen walk a cheque was presented to two of the 16 walkers who took part, singers Lucie Jones and Sioned Terry.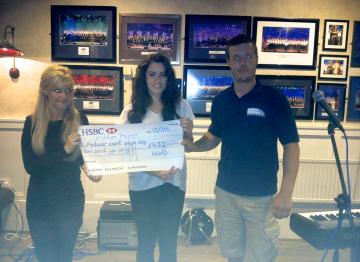 Best of Wales presenting a cheque to Lucie Jones and Sioned Terry
The Wales Air Ambulance is a valuable asset to local communities of Wales as well as to visitors and tourists, and is a service that depends solely on donations.
As well as making the donation on the evening Best of Wales were also proud to sponsor a part of the Cerddwn Ymlaen campaign this year to help them raise funds for the charity. This involved providing accommodation for the walkers in Cardiff as well as helping out along the 200 mile walk and supporting them on their challenging journey.
Llion Pughe director of Best of Wales said 'We have had a great time helping out on the Cerddwn Ymlaen walk while raising vital funds for the Wales Air Ambulance. As well as sponsoring the walk we are delighted to have been able to present a further cheque of £452.00 to Cerddwn Ymlaen and the Wales Air Ambulance. Thank you to all our customers who booked with us during the month which made our donation possible.'
To further support Cerddwn Ymlaen and the Wales Air Ambulance you can make a donation at www.justgiving.com/cerddwnymlaen2014/