#BreakfastWeek
Published: Tuesday 26th Jan 2016
Written by: Gareth Mahoney
Bore da/Good morning,
This week the 24th – 30th January is National Breakfast Week, and as the most important meal of the day we thought we'd give you some Welsh breakfast tips and recipes you could make at our cottages.
When on holiday why not try some new breakfast ideas to ensure you start the day correctly.  Studies have found that breakfast is the most important meal of the day and has many benefits to our health and well-being as it provides you with the energy and nutrients that your body need.
All of our cottages are 4* and 5* which means they are well equipped with all the kitchen utensils that you would need to make a great Welsh breakfast.  The traditional Welsh breakfast consists of local fresh produce such as laverbread, cockles, eggs, bacon, and sausages (see below).  And no breakfast in Wales is complete without a cup of Welsh Brew tea with some welsh milk.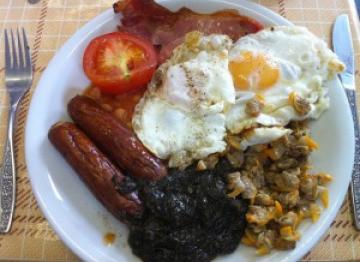 Visit Wales have created a handy toolkit of different sample menus for breakfast, depending on where you're staying in Wales and here are some of their regional breakfasts;
The Gower Breakfast – bacon, cockles, laverbread, oat cakes and poached eggs.
The Menai Breakfast – bacon, scrambled egg flavoured with laverbread, Menai oyster, leek and potato cake.
The Pembrokeshire Breakfast – local smoked haddock with poached Creswell free range egg.
The Teifi Breakfast Rhydlewis– smoked salmon with Birchgrove scrambled eggs, chives and Welsh cream.
The Conwy Breakfast – Edwards of Conwy pork sausages, grilled Nantmor mushrooms, grilled tomato and fried free range eggs.
There's certainly plenty for you to choose from and as your on holiday you've got the time to enjoy your breakfast, sitting around the table enjoying some quality family time.
An alternative Welsh breakfast and one that definitely is a treat is some of our traditional Bara Brith or our famous Welsh cakes….why not you're on holiday, have a slice or two!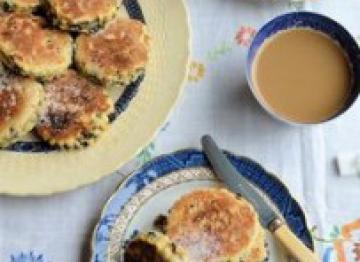 To help you plan your breakfast this week we are launching our Pinterest page so why not take a look and pin away.  We have numerous boards (including our The Best of Welsh Cuisine board) to suit everyone's needs – the place to look for more ideas.
Why not let us know what you'll be eating for breakfast this week by sharing on our Facebook page or Tweeting us #breakfastweek