Chill out in a luxury log cabin in Wales
Published: Thursday 6th Mar 2014
Written by: Gareth Mahoney
Get away and chill out in a lovely log cabin in Wales, with amazing forest walks and woodland views.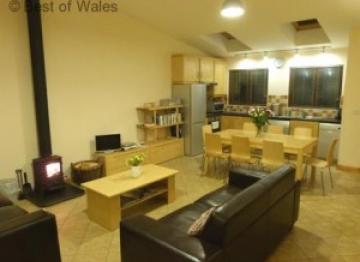 Forest Holidays Wales
Enjoy a break from the hustle and bustle of everyday life and escape from the telephone, the internet, even your beloved smart phone. All you want is a bit of peace and quiet to think. Or simply gaze at the many stars in the vast expanse of sky above you in the forest.
And then your thoughts turn to that ideal location, which is seemingly impossible to find – a lovely, cosy log cabin in a secluded valley with a forest on your doorstep, stunning countryside views, wood burner, under floor heating, leather sofas to relax in…..
No, not impossible! Best of Wales has got the perfect, get away from it all, solution for you, with just two luxury log cabins set in the famous Hafren forest. Cwmbiga Bach and Bwthyn y Biga log cabins definitely tick all the boxes to give you that much needed oasis to relax and recharge. Best of Wales not only offer Holiday cottages in Wales but also apartments, country houses, lodges and log cabins. Get more information on our fabulous log cabins by going to www.bestofwales.co.uk or give us call on 01650 511101