A Festival of Food
Published: Friday 6th Jun 2014
Written by: Gareth Mahoney
At Best of Wales, we enjoy our food so we are thrilled to see the growing amount of fantastic Welsh produce we come across wherever we go in Wales. This summer we will be out and about sampling what is on offer and we'd love it if you could join us!
The month of June sees the start of the whole series of great food festivals across Wales, spanning the summer and into the autumn. So if you're planning a holiday somewhere in Wales this Summer, you are sure to be close to a food festival showcasing some of the best produce that Wales has to offer.
If you're heading to Pembrokeshire at the end of this month, you cannot fail to miss the Pembrokeshire Fish Week from 28th June – 6th July. The whole of Pembrokeshire seems to be getting involved: the festal kicks off in Milford Fish Docks with live music, a market, cookery demonstrations by celebrity chefs and a pop-up restaurant. And even if you are not a fish lover, there will be so much to do and see; from having a go at chocolate making in Haverdfordwest, to Proms in the Castle with fireworks at the historic Pembroke Castle.
Next, we head to South Wales for the Cardiff International Food & Drink Festival in Cardiff Bay, from 11th – 13th July, with plenty of tempting goodies from all over Wales; then, we're off to the South Wales Valleys for the Big Cheese in Caerphilly (25th – 27th July), an event packed with a programme of activities and entertainment for all the family. Over 50 Welsh producers selling their wares from cheese to chocolate, cakes and chutneys and an extravaganza of funfairs, folk dancing, music, falconry, jousting and lots more, set against the backdrop of Caerphilly Castle.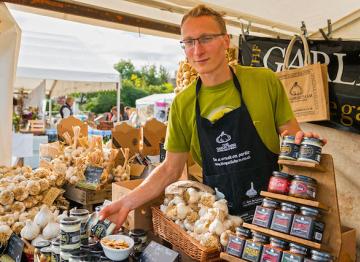 Abergavenny Food Festival
The main event in the Welsh food festival calendar has to be Abergavenny Food Festival, on Saturday 20th and Sunday 21st September, with over 200 exhibitors across 5 venues. This festival is now reputed to be the best food festival in Europe with a strong emphasis on Welsh produce, but with lots of interest from France, Spain and Italy too. Following close on the heels of Abergavenny Festival is Narberth Food Festival (27th and 28th September). If you are planning to come to Pembrokeshire on holiday in September, then don't miss this one! Narberth is fast becoming a popular foodie destination; its main street lined with independent retailers and plenty of places to eat and drink.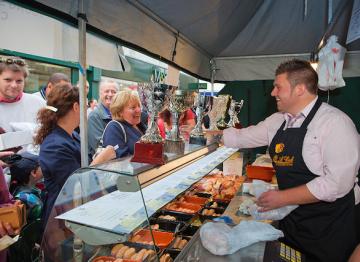 Stall Holder at Neath Food Festival
On a smaller scale, but still worth a visit is the Neath Food Festival, celebrating its 6th year, on 3rd and 4th October. It takes place in the town's historic Victorian Market and, in fact, focusses on the range of products sold by the suppliers in the market who are passionate about their produce. The summer food festivities begins to wind down with the Anglesey Oyster and Shellfish Welsh Produce Festival on 11th and 12th October. But don't be put off if oysters are not your thing: this festival appeals to non seafood lovers too with lots of Welsh food and drink on offer.
If you're planning on coming to any of these festivals and need help to plan your holiday accommodation, get in touch with Best of Wales, at www.bestofwales.co.uk or give is a call on 01650 511101.