Holiday Hinterland
Published: Tuesday 22nd Apr 2014
Written by: Gareth Mahoney
Did you get a chance to see Y Gwyll/Hinterland, a gripping, bilingual detective drama series set in Mid Wales, when it was first broadcast earlier this year on BBC 1 Wales? If you missed it, the good news is that the series is soon to be broadcast on BBC Four. This ground breaking drama is a first for the BBC as the dialogue is in both Welsh and English, with subtitles of course, for non-Welsh speakers. (Y Gwyll means 'the dusk' or 'the darkness' in Welsh.) Amazingly, it was shot in Welsh and English simultaneously – quite a challenge for the actors who are all Welsh speaking.  It has a strong, and fast paced, story line based around DCI Tom Mathias and his team solving crimes in Mid Wales, and will have you sitting on the edge of your seat, in suspense. The whole series is located in and around the lovely sea front town of Aberystwyth, and in the stunning, mountainous landscape along beautiful, wind-swept Cardigan Bay.
Aberystwyth, and the surrounding area of Ceridgion, is a great place for a luxury self catering holiday, so settle down to watch this series when it begins on Monday 28th April, and let it give you an appetite to spend your next holiday in the area. The first episode takes place in the picturesque village of Devil's Bridge – and no, it's not a fictional name, it really does exist! Fronhaul, Ty Coets Uchaf and Llety Gwedd are some of holiday cottages which are located in the village itself.
Find them all, and lots more gorgeous Aberystwyth holiday cottages at www.bestofwales.co.uk or give us a call on 01650 511101 Another bit of good news for Wales is that the production of a second five part series will begin in September this year. And that's not all…Netflix have just purchased Hinterland for broadcast in USA and Canada! Y Gwyll/ Hinterland could potentially go global! Look out Hollywood!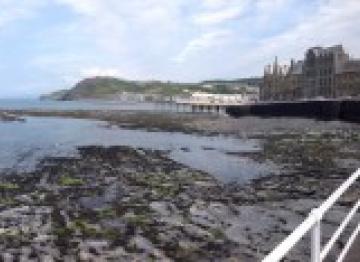 Aberystwyth