Llangwm, Pembrokeshire launches its first literary festival
Published: Saturday 9th Jul 2016
Written by: Gareth Mahoney
Llangwm, Pembrokeshire launches its first literary festival with a line-up of talks on Rival Royals, Rajahs, Russia, Refugees and Roots, and workshops inspired by Roald Dahl
Venues in Llangwm, Pembrokeshire – Friday 12 August – Sunday 14 August 2016
Llangwm launches its first ever literary festival this year with a fascinating selection of literary highlights from writers, famous and emerging. From the Kremlin to Calcutta, Refugees to Roald Dahl, Richard III to Henry Tudor, Children's Writing to East Germany's Stasi, Caldey Island to Caerphilly, Damascus to Delphi, there's something here to capture everyone's imagination.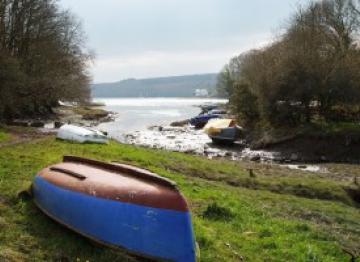 A new literary festival in Llangwm, Pembrokeshire
Griff Rhys Jones explores his sense of Welsh identity and the land of his aunties while Ferdinand Mount discovers mutiny, money and marriage in India from a very personal viewpoint. Bobo Lo examines the resurgence of the Kremlin under Putin, the emasculation of the West and the new multipolar world order while Anne Lauppe-Dunbar takes us back to East Germany for a chilling murder mystery and tales of a regime that systematically doped its best athletes to superhero status. Jerwood-winning Jo Mazelis navigates the twilight between reality and the supernatural within an icy wrap of ebony Gothic and Harry Mount walks us through Ancient Greece in the footsteps of Odysseus. Nick Taylor asks whether today's problems are the result of the historic male domination of religion, politics, the economy, and culture and Rachel Mann intrigues us with Elsie Shufflebottom's attempts to reclaim The Book of Providence and decipher the mysteries of its blank pages. Historian David Horspool delves into the Byzantine intrigues of Royal Rivals, Richard III and Henry Tudor and Diana Darke, an Arabic-speaking woman born in the Gower, talks of her restoration of a Damascus town-house and the genesis of today's crisis in Syria.
Local author, Pamela Hunt will be regaling us with the hilarious adventures of Miss Daisy, her vintage Austin and Caerphilly-born author Tom Morris will be reading from his vivid collection of short stories "We Don't Know What We're Doing". Ben Rawlence brings us nine lives from Dadaab, the world's largest refugee camp.
In addition, there will be a bilingual writing competition for children (Welsh and English), workshops on creative writing for children and adults, and discussions about strategies for getting published. Paintings by local artists will be on sale at the festival site. Local musicians and composers will be performing a variety of music, including songs in Medieval Flemish to remember the Flemish communities of South Pembrokeshire.
For more information on the festival (tickets, attendance, participation and sponsorship opportunities), please contact llangwmlitfest@gmail.com or call 07970 812050. For local accommodation in Llangwm, Pembrokeshire and all across Wales visit www.bestofwales.co.uk