Our latest instalment of Best of Wales' best kept secrets!
Published: Wednesday 14th Jan 2015
Written by: Gareth Mahoney
A while ago we introduced you to the first of our owner blogs, giving you an insight into some of Wales' best kept secrets. We are back with our second blog from Lisa from Maes Mihangel, a beautiful cottage for 10 people near Tywyn, North Wales.
So lets find out all there is to know about the area, the best places to go and the best walks from the person who knows best: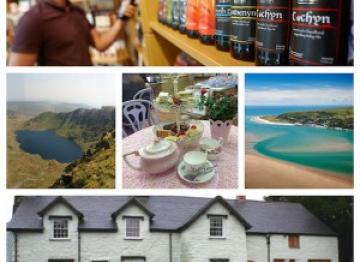 Make the most of your stay at Maes Mihangel
Your favourite local walk?
Riding my beautiful Welsh Thoroughbred 'Lady P' along the ranges of Cadair Idris one day I bumped into the producer of the walking programme 'Weatherman Walking', and he gave me a job there and then. I had an amazing two days filming with Derek Brockway (the infamous Welsh Weatherman) on a interesting circular walk called 'Around Foel Caer Berllan' which takes you through the foothills of Cadair Idris in the stunning Snowdonia National Park.
The walk is so interesting and along the way you will cross Footbridges and Waterfalls, pass the Quarrymen cottages; learn about Cow Rings; enjoy amazing views of Bro Dysynni Valley; and meet the very famous Mary Jones who frequently visited St Michael's Church in Llanfihangel y Pennant to name a few.
I had six weeks to research this walk and despite living in the area all my life and studying History at University, my findings from talking to local people about the history of the area was so interesting. I have collated the information and it's available for my guests to enjoy at Maes Mighangel.
It's a sunny day where would you head to?
The joy of the Dysynni Valley, if you love the mountains you have Cadair Idris to have a good walk/climb. For a leisurely short walk head to the nearby wonderful ruins of Castell y Bere which you can see to the left of the cottage. You wouldn't even need the car for these activities and you can take the dog with you!
Another option by car is Aberdyfi. You can have a wonderful afternoon walking to the Bearded Lake with its mysteries before having a few hours on Aberdyfi beach relaxing with its beautiful views of the sea and the mountain ranges.
There's just soooo much to do on a sunny day BUT these are my favourites!
Best place to sit and relaxing, watching life pass you by?
Just a short walk down the lane adjacent to the cottage you can watch the river flowing down from the summit of Cadair Idris widening as it meanders through the bottom of the valley towards Broad Waters and the sea. You can either sit, swim or just follow the path along the river to enjoy the tranquility and peace the valley. Or just sit and throw stones…..A favourite place for my children who just love this incredible place.
Best place for cake?
Without a doubt 'Caffi'r Ceunant', Abergynolwyn run by a father and daughter team, Tommy Rowlands and his daughter Hilary who are both trained chefs and offer an array of wonderful treats as well as a fantastic Sunday Dinner (suggest you order in advance because of its popularity). By the way, the cakes are superb!
Best place to visit on a rainy day?
Having contributed to the Daily Post Best Day's Out in Wales I have tried a few places BUT I can honestly say the children had a great day out at the King Arthur's Labyrinth at Corris. A mystical underground adventure travelling by boat, deep inside the Labyrinth and into the distant past, listening to the legends of our culture. The Corris Craft Centre also offers other activities such a painting pottery, making your own chocolate and cards and you can have a good cup of coffee whilst the children are busy!
It takes about 20 minutes by car to get to Corris by following a scenic route past Tal y Llyn Lake.
You can double up the day by visiting The Centre for Alternative Technology which consists of 7 acres of interactive displays and one of the steepest water-balanced cliff railways in the world! Rain or Shine you will find attractions and activities that you never thought of!
Somewhere that's a bit off the beaten track? (not your usual tourism attractions)
There is an old Roman Fort in Pennal called Cefn Caer Medieval Hall House. An old farmhouse, Cefn Caer is open all year but you have to make an appointment on 01654 791230 and you will receive a fascinating personal tour round the house by the owner Mr Elfyn Rowlands which will open up the world of Owain Glyndwr and the history of Wales to you.
What I like personally about this is that you just get a really good, personal view of Wales from someone who has a true passion for his country, his culture and the Welsh language.
Best place for a great meal?
You can make a day of it at Pennal, following your visit to Cefn Caer Medieval Hall House pop into the Gwesty Glan yr Afon/ The Riverside Hotel for a memorable evening. From the minute you step into this place to the minute you leave you will have a brilliant dining experience. Constant high standard is maintained visit after visit.
Another option closer to the cottage for a great bar meal it the Railway Inn in the village of Abergynolwyn. They offer, in my opinion, the best Thai curry possible! You can either have a good walk (2 miles back to the cottage) or book one of the local taxis.
Best places for a Welsh welcome?
Without a doubt, Siop Alys, Machynlleth which totally embraces the Welsh language and culture through different forms of Welsh Art and Craft. Based in the Owain Glyndwr Centre, on the high street of Machynlleth, you can also enjoy a cup of tea in proper Welsh china by the fire in the comfortable, enchanting old government building eating and drinking traditional tea. Just perfect, a wonderful atmosphere!
Your favourite local place?
Living and farming right to the summit of Cadair Idris – this is definitely my favourite place even though it can be demanding especially during the winter months. The splendour of this Ice Age Beauty with its spectacular scenery sculpted by the glaciers can never be beaten.
Living and working in this environment is quite the experience in many ways but in my opinion cannot be beaten. This mountain is part of our Welsh heritage and is enjoyed by thousands of tourists every year,  and  is probably the most spectacular mountain in the Southern Snowdonia National Park.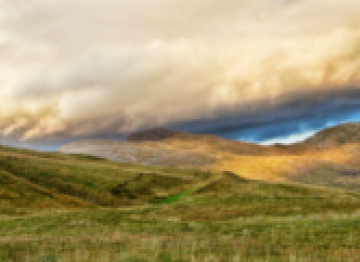 Any other hidden secrets?
Again, our wonderful way of life is to be enjoyed and shared and we love to show off our beautiful valley to our guests whether its walking or nature. It's great for guests to find out some of these wonderful hidden secrets, the caves, the plants, the birds and the animals or just to enjoy the beauty of the valley. Why not book a holiday and find out for yourselves.
A big thank you to Lisa for her contribution and her genuine passion for the area. Next we'll be heading to South Wales so keep an eye out for our next instalment.