September Events
Published: Monday 21st Aug 2017
Written by: Gareth Mahoney
The Summer school holidays are nearly over but that shouldn't stop you from enjoying some time away. And September is a great time of year to head to Wales with a range of events to enjoy. From food festivals, to Ironman challenges, from interesting train rides, it's all waiting for you to visit.
Here at Best of Wales, we've compiled a list of some of the great events you could be visiting in September, so head out and enjoy the start of Autumn.
9th of September – Real Ale Train 
Hop on board the Llangollen Railway and soak up the atmosphere whilst enjoying the Real Ales on offer at their well stocked bar. 
10th of September – Ironman Wales 
Even if you're not taking part in the Ironman Wales then this event is one not to miss as a spectator. A 2.4 mile (3.8km) swim, a 112 mile (180km) cycle, followed by a marathon is a challenge not for the faint hearted.  The town of Tenby is packed full of atmosphere and the early morning atmosphere for the swim is one not to miss, well worth that early alarm wake up call.
16th – 17th September – Sandman Triathlon 
The Anglesey Sandman Triathlon comprises of four distances, the Sandman Full, the Sandman Sprint, the Sandman Savage and the Sandman Legend. You will also be able to compete as a relay team in both the full and sprint distances. Head to the Sandman Triathlon website for more information.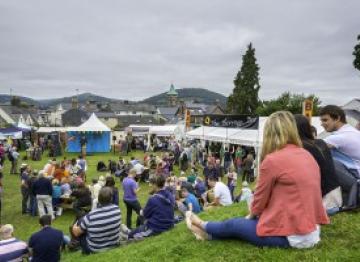 16th – 17th September – Abergavenny Food Festival, Abergavenny
With 200 exhibitors from Wales and further afield this is one of the UK's biggest food events. You can enjoy a food Academy for children with hands-on workshops, a rolling programme of chef demonstrations featuring the region's finest and special master classes, workshops, tutored tastings and talks.
16th – 17th September – Mold Food and Drink Festival
Showcasing outstanding local produce, celebrity chef expertise and live music to create a fabulous foodie weekend for the whole family.
16th September – Jazz night on the Vale of Rheidol Railway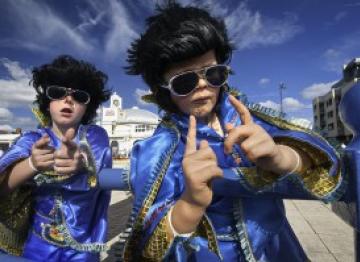 A fantastic night including a complimentary cocktail on the platform, train trip from Aberystwyth to Devil's Bridge, buffet at the Hafod Hotel, jazz music by Chocolat, dance with Aberswing, best dressed and dance contest, return travel to Aberystwyth by bus. For more information head to the Vale of Rheidol website.
22nd – 24th of September – Elvis Festival, Porthcawl
Elvis Festival Porthcawl
Elvis lives, thanks to the thousands of fans and the tribute artists who attend this annual gathering of the Elvis Festival at Porthcawl
23rd – 24th September – Narberth Food Festival, Pembrokeshire 
Well established in the food festival calendar you can expect food stalls, live music, street theatre, talks and tastes, chef demonstrations and free children's activities.
Looking for accommodation then head to our search page or contact us on 01650 511101 and our team of expert will help you find your perfect holiday cottage.