The Coast of Wales, Coasteering, Dolphins, Walking and More….
Published: Tuesday 30th Jun 2015
Written by: Gareth Mahoney
Summer is here, the sun is shining and we're on countdown to our Summer holidays.
Where will you be heading this Summer? One place that we will definitely be heading to is the coast of Wales. Did you know that Wales was the first country in the World to have a coast path around it's entire coastline? However it's not only walking that you can enjoy by the sea, the coast of Wales is also a great place for water sports, wildlife spotting, relaxing and more.
And here we not only have this short video to wet you appetite we have also put together our top 10 suggestions of things to do this Summer on the coast in Wales:
https://www.youtube.com/watch?v=lDQm0A-2rxQ
1. Head to Cardigan Bay for dolphin and seal watching
Yes dolphins, did you know that Cardigan Bay has the largest resident population of bottle nose dolphins in the whole of Europe. So hop on a boat at locations such as New Quay in West Wales and try and spot dolphins playing and enjoying in the sea.
2. Cliff jumping or traversing the rocks with some coasteering
Coasteering is a great way to explore the coast, engage with your adventurous side and get out there and enjoy yourself. Fun for all the family you can be as adventurous as you like with jumping off cliffs, exploring caves or traversing the rocks. Head to Pembrokeshire with companies such as Celtic Quest Coasteering who will guide you through the day and give you an unforgettable experience.
3. Head out to sea with a kayak
Experience the coves, beaches and cliffs of Wales from the sea in your very own kayak. Grab yourself an experienced guide and go wildlife watching while getting some exercise at the same time. Pembrokeshire and Anglesey are just two of the places to head to, so what are you waiting for?
4. Grab a board and catch some waves
Whether your a beginner or expert why not ride the waves on one of our many surfing beaches in Wales. With surf schools for lessons and equipment hire why not head to Whitesands, Llangennith, Newgale or Porthcawl as just some of the options.
5. Walk a section of the Wales coast path
As we've already mentioned, Wales was the first country in the WORLD to have a coast path around it's entire coastline. With 870 miles of path to explore you're spoilt for choice, the path is split up into small sections for you to enjoy a days walk on Wales' beautiful coast.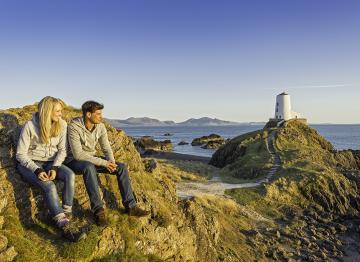 Enjoy the Wales coast path
6. Try some sea fishing
Why not try some sea fishing while here in Wales, head out by boat (organised tours are available) and try your luck at catching your supper. What better way to spend the day out at sea and then enjoy a bbq at the end of the day with your catch (if your lucks in)
7. Rock pooling on our fabulous beaches
Something for the kids (and grown ups), why not spend a day down at the beach exploring the pools at low tide, you may be lucky to spot some crabs or star fish clinging to the rocks. A great way for all the family to spend the day on the beach.
8. Horse riding
A treat for any horse lovers is the experience of cantering along a beach on horse back. Spend the day in the fresh air with a qualified company to take you out and explore the coast of Wales.
9 Power boating
An exhilarating experience, feel the wind in your hair while taking to the Menai Straights or Cardiff Bay in a speed boat.
10. and finally after all of that how about some relaxing……..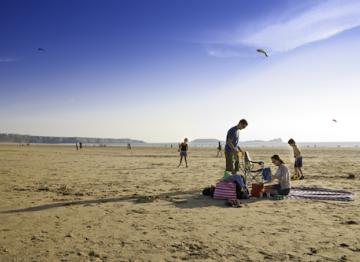 Relax by the sea
After all of that adventure you'll need time to relax, so why not head to one of our 41 blue flag beaches. The children can build sand castles or paddle in the sea while you sit and watch the world go by.
So we hope that we've tempted you to head to the coast of Wales this Summer, and why not stay in one of our 4 or 5 star self catering cottages by the sea?