Tour of Pembrokeshire 2013 – Review
Published: Wednesday 1st May 2013
Written by: Gareth Mahoney
As a keen cyclist I had heard about the Tour of Pembrokeshire but in all honesty until I took part I hadn't appreciated how special and unique it really is. From the stunning Pembrokeshire views and scenery, to the camaraderie of riders, helpers and spectators – it was great to be part of such a special event. One thing I hadn't really appreciated was how difficult the route would be. With 108.3 miles ridden and 8,914ft climbed it has taken me until today to be able to sit down and write this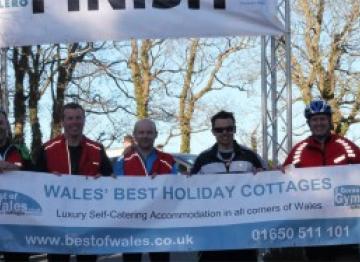 Best of Wales team at the finish line
With over a thousand riders the Tour was a great opportunity for people to visit Pembrokeshire and we were very pleased to welcome the participants that we had staying at our Best of Wales Holiday Cottages in and around the area. These included Ty Onnen, Hafan Aber Llydan and Ty Blawd.
The Best of Wales team set off from St Davids at 7.30am on the Saturday morning and as we rolled across the start line the sun came out and set the scene for the rest of the day. Despite the clear blue skies and sunny weather there was a stiff head wind for the first 40 miles or so as we headed North all the way up to Fishguard and then on to Cardigan.
From Cardigan we headed inland to the Preseli Hills and then on back down to St Davids via the Gwaun Valley. The descent down from the top of the Preseli was fantastic and more than made up for the climb to get up there.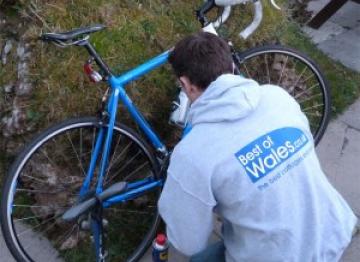 Last minute bike checks
The food stop in the Gwaun Valley was a particular favourite and with some great local food , music playing and the sun shining it was a great party atmosphere and just what was needed to take our minds away from the one final steep climb that was ahead. Having ridden up and over the Gwaun Valley it was nice to be able to see St Davids in the distance knowing that we were on the last stretch to the finish.As a team we all had a great time at the event and will definitely be looking out for the Tour of Pembrokeshire in 2014. Even outside of the event the course is great to cycle at any time of the year and with many of our cottages offering secure bike storage why not book a trip down to sunny West Wales with Best of Wales.