Walk in the footsteps of TV detective drama Hinterland
Published: Thursday 26th Mar 2015
Written by: Gareth Mahoney
We were glued to our TV screens last year when DCI Mathias and his crew were introduced to us in the dual language Detective Drama Y Gwyll/Hinterland. Set in rural Ceredigion the series showcased the beauty and mystery of the area and took us on a tour of areas such as the costal town of Aberystywth, the rural village of Devil's Bridge, and the seaside resort of Borth and Ynys Las.
The much anticipated second series of Hinterland is currently being filmed (again in Ceredigion) and will be on our screens later on in 2015. However as well as seeing the area on the small screen you now have an opportunity to take a walk around the natural film set of the series.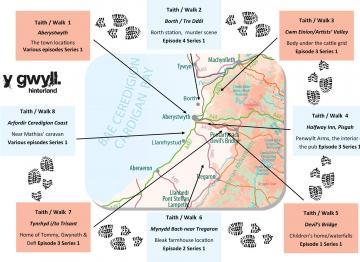 Local walking guiding company Twms Treks has created a series of 8 walks for you to book on during your visit to the area. Each guided walk concentrates on a specific area giving you a tour of all the landscapes and features which appear in the series. This is your opportunity to visit the police station in Aberystwyth, the location of DCI Mathias' Caravan and the World Famous Bridges at Devil's Bridge to name a few.
A selection of 8 walks to choose from
So if you are visiting the area and staying in one of our Cottages in Aberystwyth why not book yourself a guided Hinterland walk. Walks need to be booked in advance and for more information visit www.hinterlandwalks.wales.