Walk Your Way Around Wales
Published: Friday 1st May 2015
Written by: Gareth Mahoney
The coast, mountains or woodlands, where would you like to go for a walk? Wales has it all and you will be spoilt for choice on where to head to. And if you don't fancy heading out on your own why not join one of the many walking festivals on offer.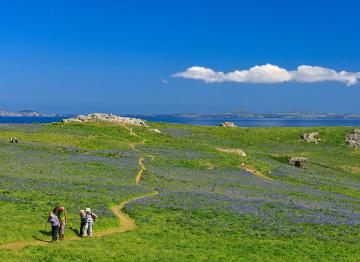 Skomer Island© Hawlfraint y Goron (2014) Croeso Cymru
Why join a walking festivals?
They are a great way of exploring new walks
An opportunity to meet like minded people
Learn a little bit about the history and culture of the area
Here at Best of Wales we have started to put together a list of some of the great walking festivals on offer in Wales in 2015:
Prestatyn and Clwydian Range Walking Festival – 15th – 17th of May
Vale of Glamorgan Walking festival – 21st – 24th of May
Llanelli Walking Festival – 22nd – 25th of May
Malvern Walking Festival – 23rd May – 31st of May
Anglesey Walking Festival – 23rd of May – 7th of June
Corwen Walking Festival – 5th – 6th of September
Barmouth Walking Festival – 13th – 22nd of September
So what are you waiting for come and join in on the walking fun…….
Know of any other Wales walking festivals taking place this year? Please get in touch with us on Facebook, Twitter or by e-mailing lisa@bestofwales.co.uk and we can add it to the list.
Looking for accommodation for your visit contact us on 01650 511101 or e-mail info@bestofwales.co.uk and we'll be happy to help.