Welsh Rugby stars visit Best of Wales' idyllic Christmas Cottage.
Published: Tuesday 6th Dec 2016
Written by: Gareth Mahoney
In the run up to Christmas Best of Wales were delighted to welcome members of the Welsh rugby squad to Bwthyn y Fro. BBC and S4C had hand-picked this Holiday Cottage in the Vale of Glamorgan to film their Christmas promo's and the idyllic thatched cottage was the perfect location with its large log fire and cosy Christmas appeal. The players and film crew fell in love with the cottage right away.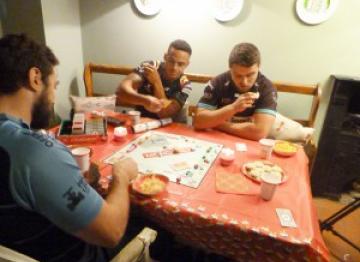 Ashton Hewitt , Nicky Smith and Josh Turnbull playing monopoly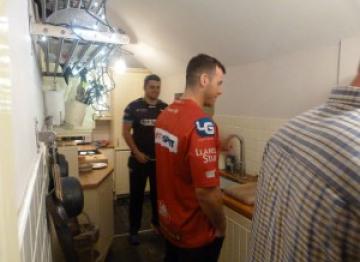 Nicky Smith and Gareth Davies cooking Christmas dinner
Bwthyn y Fro is a perfect traditional thatched cottage set in a small hamlet in the Vale of Glamorgan, yet only 30 minutes from the centre of Cardiff. This gorgeous cottage is the perfect blend of authentic features and stylish design. Within walking distance of a local pub, shop and the all Wales coastal path and beach. It is warm , and cosy cottage and a great location at which to spend your Christmas.
The filming was done by Y Clwb Rygb,  BBC ScrumV and TAG and we look forard to showing you a teaser soon. Bwthyn y Fro http://www.bestofwales.co.uk/self-catering-holiday-cottages-south-wales-... be booked online along with other perfect holiday properties all across Wales at www.bestofwales.co.uk