A Wonderful Holiday in West Wales…..
Published: Tuesday 16th Jun 2015
Written by: The Best of Wales Team
We recently gave you all the wonderful opportunity to win a short break in the fabulous 5* Bwthyn y Traethin West Wales. You entered in your thousands and the lucky winner was Mary Jordan. Mary and her husband Alan headed to West Wales last week and kindly sent us the message below:
"Just returned from a fabulous six days at the wonderful 5* coastal cottage Bwythn y Traeth in Burry Port, West Wales. The cottage was outstanding everything you could need from Tea, coffee, milk , and a lovely bottle of wine, it was home from home with a very warm welcome from the proprietor Kay who couldn't do enough for us.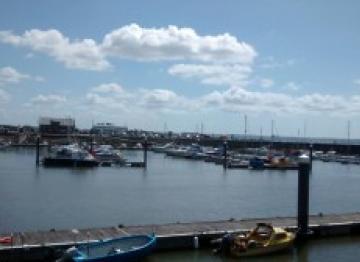 The Marina at Burry Port
The area had a few surprises too with plenty of walks, cycle paths, and lovely beach nearby, a real hidden gem. It was a very interesting break with visits to the local towns of Llanelli and Carmarthen and for the younger members there is the Pembrey Country Park, and Kidwelly castle for exploring. For the food lovers eating out was a real treat with a few local pubs and restaurants specialising in local seafood and a visit to the lighthouse cafe which is only 5 minutes away on the harbour/marina is a must.
I must finish with my thanks to Llion from Best of Wales who organised this holiday for us both to celebrate our Anniversary which was a lovely surprise to win this competition. Finally to thank Kay Lenyk for the use of her amazing cottage to which we would certainly return without hesitation.
Thankyou again so much Best of Wales. Mary & Alan Jordan."
We're so glad you had a wonderful time Mary and Alan. And for the rest of you keep an eye out on our Facebook page for more competitions later on in the year and next time you could be the lucky winner.