World Alternative Games
Published: Tuesday 18th Feb 2014
Written by: Gareth Mahoney
Have you been watching the Winter Olympics? I find the Winter Olympics much more exciting than the Olympics Games. My heart is in my mouth, watching the athletes hurtling down an icy mountainside at a reckless speed.  The excitement and thrill of the competitions makes you want to get out there and take part but sadly, most of us will never get a chance to compete at that level, no matter how much we would like to!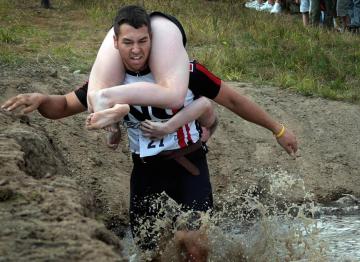 The Wife Carrying competition at the World Alternative games
Well, here's your chance to become a world champion and win a medal – maybe not for your country, but at least for yourself! From 8th – 25th August, the 2014 World Alternative Games are going to be held in Llanwrtyd Wells, in Mid Wales. Held over 17 days with more than 50 different weird and wonderful, wild and wacky sports and competitions for all ages to take part in, you don't want to miss the opportunity of having a whole lot of fun with your family and friends, and all set in an area renowned for its outstanding natural beauty. And the good news is that everyone who takes part will win a medal. You could become a champion Stone Skimmer, Finger Jouster or Pea Shooter. Or you could try your hand at the Scooter Slalom, Hay Bale Throwing, Worm Charming or Russian Egg Roulette. The Wife Carrying competition always attracts great crowds – I wonder why? And if you are a cyclist aspiring to be the next Bradley Wiggins, the World Alternative Games Cycling Festival takes place on 9th and 10th August. Then there's the world famous, crazy competition of Bog Snorkelling on August 24th. It has to be seen to be believed!
Of course, you'll need a place to stay. Check out Llety Llanwrtyd – a superb, luxury holiday cottage which sleeps 10 – ideal for a family or friends get together this summer in Llanwrtyd for the World Alternative Games. Best of Wales can offer you other cottages not far from Llanwrtyd as well– you can find them all on our website www.bestofwales.co.uk or call us on 01650 511101and we will be able to help you find the right place for your holiday.