Golf in Wales
If you like your golf then a cottage holiday in Wales is ideal. Just as the Ryder Cup did in 2010 choose Wales as the destination for your next golf break with your friends, family, society or golf club. There are 176 different courses in Wales and with over 750 miles of coastline Wales also has a wealth of Links courses. https://www.youtube.com/watch?v=F91x2CaUh6Q
Woosnam On Wales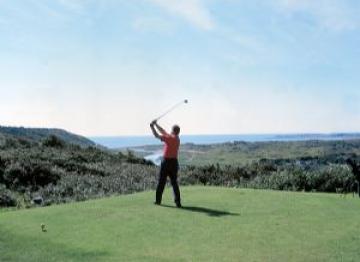 Captain of the successful European team in the 2006 Ryder Cup, Ian Woosnam has more than a soft spot for his home country.
'I know Wales – and Welsh golf – like the back of my hand. We have some of the best, friendliest courses in the world. I have a special feeling for Aberdovey, the magnificent links course on Cardigan Bay. Part of the attraction has always been its great condition throughout the winter so I could keep my hand in. It's a magic place and I return there whenever I can.
'My home course of Llanymynech is another favourite, even though three of its 18 holes are in England! As a youngster I worked on the family farm, and only when I'd finished my tasks was I allowed to play golf. Those years of farm work gave me strength and may be responsible for my reputation as a long hitter. It certainly came in handy at Llanymynech and elsewhere.
'The view from the 12th tee at Llanymynech is one of the most magnificent you'll see anywhere. Other favourites include the links at Royal St David's, where you play in the shadow of Harlech Castle, and Royal Porthcawl overlooking Swansea Bay.   
'I can personally recommend many more courses: Prestatyn, Maesdu, North Wales and Conwy along the North Wales coast, Nefyn on the Llŷn Peninsula, and  Ashburnham down south. In the south-east, I won two tour events at St Pierre and I have very close ties with the Celtic Manor that of courses hosted the Ryder Cup in 2010.
'My connection with Terry Matthews's masterpiece goes back to the early 1990s. I was attached to the club as touring professional for seven years and it has been great to watch the complex grow. The Twenty Ten course is a world-class venue that will set the seal on Wales's arrival as a major magnet for golf tourists.
Uplifted noses are not encouraged'But there is more to golf than playing. Our clubhouses share a special talent for hospitality – the friendly bar, the inevitable snooker table, the animated discussions. People who think golf is a snobbish game should visit a Welsh clubhouse. Uplifted noses are not encouraged. We specialise more in laughter and banter. The clubhouses haven't changed throughout the years and I hope they never will.
Life After Golf
We're not, for a moment, suggesting that you're not a keen and enthusiastic golfer. But there is life after golf, especially when you're off course in Wales. A Best of Wales golfing break or holiday here means more than just playing the game. The golf's irresistible. But so too are the amazing number of non-golfing diversions – the attractions and alternative sports, the countryside and the culture – you'll find here.
Wales has one of the world's greatest concentrations of castles and historic places. Some of Britain's highest mountains spring from its soil. Three of the country's fours sides are washed by the sea. And if you're still hungry for a piece of action after putting that birdie, then you have a wealth of alternative activities from which to choose.
(content from http://golf.visitwales.com/)