Sky Hut - Caban y Nen
New Quay, West Wales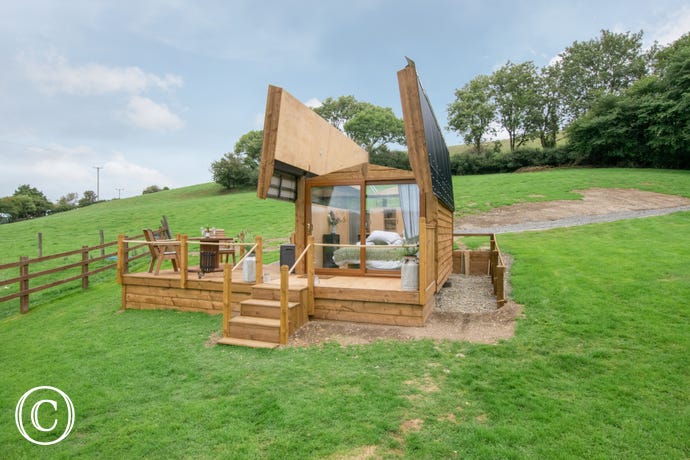 Special Offer

Up to 15% off Special Offer Discount - selected dates

Special Offer

Save 10% on holidays between 5th January and 8th February 2024
£

531

per week

£

76

per night
2 Guests
1 Bedroom
1 Bathroom
No Pets
Features
Beds & bedrooms
Bed linen provided
1 double bed
Appliances
Washing machine
Tumble dryer
Freezer
Bathrooms
1 WC
Towels provided
En-suite bathroom
Wet room
Shower
Special Features
Games room
Hot tub
Welcome pack
Countryside views
Lake views
Outdoors
Garden or courtyard
Outdoor storage
Private parking
Rural location
Nearby activities
Walking
Cycling
Watersports
Fishing
Golf
Pony trekking/horse riding
Important - please note
House Rules
Sorry, infants (aged under 2) are not allowed at this property
Sorry, children (aged between 2 and 17) are not allowed at this property
Check in: 16:00
Check out: 10:00
Located on a working farm with another cabin and 3 small camping pods
Description
The Sky Hut is one of eight cabins which were the focus of the Channel 4 / Netflix documentary 'Cabins in the Wild'. With a boat and canoes to relax on the lake, the option of fishing and access to a shared hot tub, games room and pizza oven, there is plenty to do on site. The Sky Hut also provides a great base to explore nearby Cardigan Bay and its wide range of attractions as well as the Cambrian Mountains.
Designed to provide a cosy and unique glamping-observatory experience, its lakeside home in West Wales provides the perfect setting to admire the magnificent night sky. Named as the country with the highest percentage of 'International Dark Sky', Wales is officially one of the most outstanding places in the world to stargaze. Along with eye level glazing all around this inspirational cabin, you can also open the roof and sliding glass door that leads out to your own decking area with a fire pit. What better way to enjoy the beautiful surroundings of Wales?

Main features include...
Welcome pack on arrival includes tea and coffee, sugar and a selection of Welsh delicacies.
Double bed with a view (bed linen, hand and bath towels provided)
Electricity and gas included. USB and standard socket available in the cabin.
Living area - cosy and scenic with an inviting sofa (that transforms easily from the double bed) in front of an electric, wall mounted fire.
Two gas hobs, kitchen sink and small fridge. Kitchenette corner equipped with cutlery, plates and glasses, kettle, toaster crockery etc.
En-suite facilities (shower, basin and toilet).
Elevated patio with seating to enjoy the lakeside setting and extensive countryside views.
No pets or smoking inside.
Not suitable for children or infants
Wood store and kindling available.
Solar powered so please note there is no TV.
Located on a working farm with 1 other cabin and 3 small camping pods.
Fire pit available.
Shared facilities include...
Communal, roofed area on site (shared with 3 pods and 1 other cabin) that features a pizza oven.
Shared small kitchen area on site with fridge, electric kettle and microwave.
Large, shared freezer also provided in the games/laundry room with washing machine and dryer and secure bike storage.
Shared hot tub on site (bookable slots on arrival).
Reviews
The cleanliness did let the hut down. All around needed the the finishing touches to be looked at! The Hut and communal areas. We saw the owner once as he was very chatty and welcoming!
Such a dreamy weekend at the sky hut with the sounds of all the animals from geese to donkeys to sheep and all the other farm animals. I normally sleep with earplugs but loved listening to them throughout the night and waking up to the sound of the countryside. When I first booked the sky hut, I thought only of the stars at night but it was also ideal for the daytime. We had lovely weather but with quite a breeze so to be able to sit inside with the roof open was perfect! Although things could have been cleaner, the accommodation was worth the trip. The big negative was the hot tub. There was only one hot tub between the sky hut (2 people), the dragons eye (2 people), 2 families in the glamping pods (7 people) and two cottages (4 people). That was one hot tub between 15 people which is just unsanitary and unappealing - baring in mind there was also another pod not booked this weekend. The system for the hot tub was also a downside as everyone wanted to be in at the same time on an evening as they tended to leave the site throughout the day meaning it was always booked up. Also something to note is that the farm is within the site and of course, the smells carry so if you don't like strong farm smells, it's possible this isn't the stay for you!
Everything was great and it was a really unique stay. We especially liked the welcome hamper provided by the host! It was great to go in spring as there were lambs in the field right next to our hut & the donkeys came over regularly which was cute. We liked that the hot tub was bookable but you have to do this as soon as you arrive as the other spaces were quickly filled up by the other pods. We felt there could have been a few more utensils (such as serving spoons) and the shower was quite difficult to get to the right temperature but other than that, a great stay! If you're planning on coming we'd recommend bringing some blankets and mosquito spray as we found these meant we could keep the roof open longer!
I prefer booking directly with the owners for better communication.
Brilliant experience and lovely place and people around the area
Great little place, very rural as expected. Accommodation was comfortable, hot tub with a view was great, nice lake and cute donkeys!
"Lovely peaceful place! Fantastic owners and really friendly. I've never experienced anything like looking at the stars whilst in bed, an unexplainable feeling. I did a bit of travelling whilst staying and used the sky hut as my base. Some nice trails within an hour or 2 drive. No phone reception to keep in mind for those wanting to do work etc. Hot tub whilst looking over the beautiful landscape was lovely too. Only one gripe that underneath where you pull the bed out could do with a hoover but other than that a fantastic stay and would recommend to others."
Sky Hut offers a beautiful and completely unique retreat for two, on the shores of a lovely lake on a family farm in West Wales. With stunning countryside and sky views, the cabin also enjoys additional features on site, including a hot tub, communal area and games/laundry room, shared with another cabin and 3 small pods. Set apart from the pods, the cabin is closer to the lake and also enjoys its own patio area to make the most of this beautiful setting.
The village of Mydroilyn and Gilfach Inn is within 1.5 miles, whilst Bardsey View is 2.2 miles, featuring a bar and restaurant. A village shop and pub / restaurant (Llanina Arms) can also be found in the neighbouring village of Llanarth (4.5 miles). Cardigan Bay's nearest beach (Cei Bach) is less than 6 miles and the picturesque seaside resort of New Quay is just 7 miles, where you will find a wide range of mouth-watering restaurants, cafes etc. It is also home to a lovely Blue Flag sandy beach and bottle nosed dolphins, porpoise and seals which reside in Cardigan Bay. A 12 mile journey inland brings you to the rural town of Lampeter, also known as the smallest university town in the whole of Wales and the British Isles.
Dotted with pretty little resorts and stretches of spectacular Heritage Coastland, Cardigan Bay has something for everyone. The Georgian harbour town of Aberaeron lies 8 miles to the north. This architectural gem is full of interest. There's a Sea Aquarium, the famous Harbourmaster Restaurant and the National Trust's Llanerchaeron estate. Travel inland from Aberaeron to the Teifi Valley. A favourite with visitors is Cenarth Falls, a famous beauty spot.
Travel on the narrow-gauge Vale of Rheidol Railway from Aberystwyth and experience the waterfalls at Devil's Bridge or visit the ruins at Strata Florida Abbey, near Pontrhydfendigaid in the Cambrian Mountains. Sky Hut is the perfect base, whether you wish to explore the wonders of Wales, or choose to relax in the comfort of your cabin whilst admiring the beautiful surroundings.
Beaches
New Quay Beach is expansive, sandy and well protected from the breeze. This blue flag beach (Harbour Beach) is very popular during the summer months. 7.5 miles
Cei Bach is a lovely beach, much quieter than New Quay beach. 5.8 miles
Water Sports
You can choose from dinghy sailing, yacht cruising, power boating, windsurfing and kayaking with both short sessions and longer courses suitable for all levels and abilities. Cardigan Bay Watersports 7.5 miles
Tresaith is set in a small sheltered sandy bay named after the River Saith which cascades as a waterfall over the cliffs to the beach. The beach has a slipway and is a popular sailing destination. An excellent beach for watersports - wide and sandy. Limited parking. 16.4 miles
Walking
The Ceredigion Coast Path links together a treasury of environmental, natural and heritage assets within one of the most scenic coastal areas of Wales: 7.5 miles
Fishing
Trout lake on site, perfect for a spot of fly, lure or bait fishing.
There is superb sea fishing all around the New Quay area, the harbour wall remains a popular venue for children. The area is also renowned as a UK bass hotspot. Boats available from the New Quay harbour, bookings taken on the quay. 7.5 miles
Coarse fishing -many lakes and river including Llanarth Coarse Fishery. 5.4 miles
Game fishing – River Teifi is one of the UK's most famous Salmon rivers.
Golf
Cwmrhydneuadd Golf Club 9-Hole Public Course Par 31. The golf course is open all year round and is very rarely closed by the weather and normally there is no need to book. 11.6 miles
Penros Golf Club 150 acres of lush green countryside in the Wyre Valley in West Wales. 15.8 miles
Cycling
Many trails and quiet local roads in the area making superb cycling. Lôn Teifi runs between Aberystwyth and Fishguard, part of National Route 82 of the National Cycle Network. The 98 mile (158km) cycle route follows country lanes and minor roads along the valley of the River Teifi, through the rural towns of Tregaron, Lampeter, Newcastle Emlyn and Cardigan before reaching Fishguard on the West Wales coast. 14 miles
Pony Trekking
Horse riding is available in a few locations including Gilfach yr Halen Llwyncelyn. 6.5 miles