Top 5 Beaches in North Pembrokeshire
Top 5 Beaches in North Pembrokeshire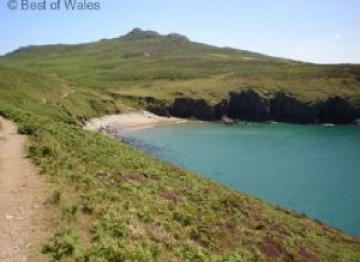 Whitesands Beach -The blue-flagged Whitesands Bay is a popular family beach due to its safe swimming and clean white sand. It is also regarded as one of Wales' top surf-spots and attracts surfers from all over Britain. Looking directly out to sea from the beach you will see Ramsey Island. Owned by the RSPB, Ramsey Island (Ynys Dewi in Welsh) has spectacular seabird cliffs, stunning coastal scenery and has the most important grey seal breeding colony in southern Britain.
Newgale Beach – It's a magnificent two mile long stretch of wide flat sand with a huge pebble bank behind it. Powerful swells roll in here at all times of the year. Winter storms allow for car surfing from the main road across the field. The sand does disappear at high tide but at low tide it's an activities paradise. Newgale is one of Pembrokeshire's top three surfing locations and attracts surfers and kayakers but because of the length of the beach and the absence of underwater obstructions, it's perfect for wind surfing and kite surfing too.
Caerfai Bay – As you approach St Davids from Haverfordwest, turn left at the visitor centre and drive straight on. Caerfai is a lovely sandy beach perfect for families. Its position provides shelter from the prevailing winds. As you approach the beach you will pass the farm shop where it is well worth visiting and buying some delicious local organically produced cheese and other goods. The farmer here is keen on eco friendly solutions. It is his windmill in the field and he also produces energy from Slurry Gas using his own invention.
Broad Haven Beach – A popular safe sandy beach with rock pools at low tide. With plenty of space for everyone it is popular with surfers and windsurfers. Small craft can be launched from the beach. Diving is also popular in the local waters. 
Caer Bwdi Beach – On the way to St Davids as the road dips suddenly into small valley there is a turning on your left. 100 yards down the road is a grassy car park. The walk is ten minutes to a beautiful rocky beach. The rocks here are red sandstone and it is from here that the rock was quarried for St Davids Cathedral. A walk on the cliffs to the right will show you dramatic geosynclines and rock foldings across the bay. Continue on round the cliffs and you will reach the earthworks at Pen Pleidiau Point near Caerfai Bay. Seagulls nest on the Island and locals have been known to collect their eggs for eating in April and May. In calm seas a competent swimmer can swim round the island and it is excellent snorkelling with deep clefts in the rocky bottom. Sea Bass can be seen and caught by Anglers here.