Fishing on the Llyn Peninsula
The Llyn Peninsula in North Wales offers excellent fishing, from sea angling, to rivers and freshwater lakes. If variety's what you are looking for then the Llyn coast will be very much to your taste.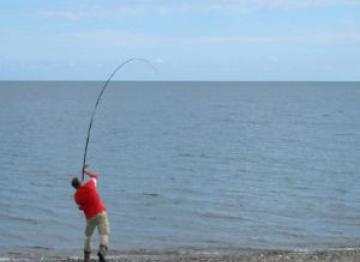 For sea fishing, two long, sandy beaches and a harbour at Llyn Peninsula's unofficial 'capital' of Pwllheli provides and excellent base. Amongst the fish that can be caught here are mackerel, bass, Pollack, Flounder, Black Bream, Gilthead Bream, Dabs, Dogfish and Gurnard.
Other locations for sea fishing include Trefor Pier and, for the more experienced anglers, Uwchmynydd, Aberdaron. Species here are similar to the fish mentioned at Pwllheli.
For river fishing, a good population of wild Brown Trout can be found on the river Soch, Erch, Rhydhir and Dwyfach. All the rivers in the area have a run of migratory fish but the main angling rivers are the Dwyfawr and the Erch. Both have good runs of Sea Trout from June through to September. The main Salmon run comes late in the season, but the Salmon season extends until the end of October.
For the more adventurous angler, the beautiful lake at Cwmysdtradllyn offers wild Brown Trout, supplemented by a few stocked Rainbow Trouts. Located on the south western foothills of Snowdonia, Llyn Cwmystradllyn is stunning fishery, fed by several mountain streams and supplies drinking water for the Llŷn Peninsula.
If you're on a fishing holiday, you can obtain day, week and full season permits at the following outlets (for the rivers only or for the rivers and lake). Rivers and Lake Day Permits £10 (junior) -£15 (adult); Week Permits £17-£35; Full Season £20-£77.
Angling Wales, Criccieth - Phone 01766 522805
D & E Hughes, Pwllheli - Phone 01758 613291
Penrhyn Guns, Penrhyndeudraeth - Phone 01766 770339
Pike Newsagents, Porthmadog - Phone 01766 512578
Porthmadog Bait & Tackle, Porthmadog - Phone 01766 513719
A Rod License is required in addition to a permit to fish these waters and can be obtained on line at the Environment Agency Website or from your Post Office.
The season starts mid March and ends for Brown Trout at the end of September and for Rainbow Trout at the end of October.