Pembrokeshire Coast Path - South Pembrokeshire
The Pembrokeshire Coast Path is always kept in pristine condition by the national park, provides hundreds of miles of walking opportunity. Whether you're after a gentle stroll down into Littlehaven or a week-long hike it's right on your doorstep, and a watering hole to quench your thirst is never far away.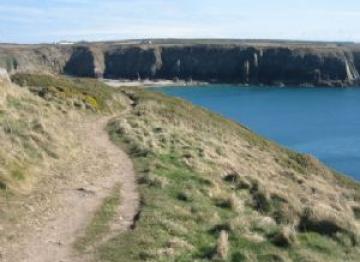 What makes the Pembrokeshire Coast Path so interesting is the variety of landscapes you pass through on your way along it, ranging from steep limestone cliffs, undulating red sandstone bays, volcanic headlands and flooded glacial valleys.
There are also some remarkably quaint towns and villages to explore, rest, refresh and recuperate in: essential for getting your breath back after experiencing some of those views!
Don't be put off by the length of The Coast Path. The year round Coastal Bus Services are specially designed for walkers. Travel by bus a few miles down the coast and walk back at your own pace. 
There are also plenty of smaller circular walks. The Pembrokeshire Coast National Park list 130 of them on their web site. An example of a comfortable circular day walk starts from the square in the centre of St Davids, past the National Park Visitor Centre to Carefai Bay. Follow The Coast Path in a clockwise direction to either St Justinian's or Whitesands Bay before turning back inland.