Walking the Glyderau, Snowdonia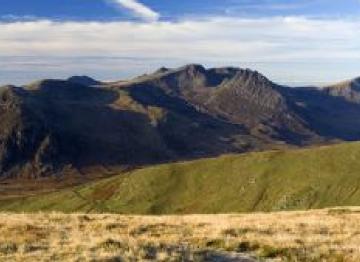 The Glyderau mountain range offers some of the most majestic and inspiring routes in Snowdonia and stretches from Mynydd Llandegai to Capel Curig. Five of Wales' fourteen highest summits (all over 3000 feet) can be found here. Starting with the highest, these include Glyder Fawr (1,001 m), Glyder Fach (994 m), Y Garn (947 m), Elidir Fawr (924 m) and Tryfan (918 m).
Named after the highest peaks in the range, the name 'Glyderau' or 'Glyder' in its single form derives from the Welsh word "Cludair", meaning a heap of stones. This is a fairly accurate description of this rocky landscape, shaped by glaciers during the last Ice Age around 10,000 years ago and regarded as one of the finest examples of a glaciated land form in Britain.
The superb mountain scenery attracts over half a million visitors a year. Dinorwig Power Station, a hydroelectric pump-storage system, is housed within the range - located in a man-made cavern within Elidir Fawr. The slopes of the Glyderau also include the lake Llyn Idwal, nestling beneath the buttresses of Glyder Fawr; it is a National Nature Reserve with unusual sub-alpine, sub-arctic flora.
The eastern half of the range in particular, including Glyder Fawr, Glyder Fach and Tryfan, is very popular with walkers and climbers. Tryfan is considered one of the finest mountains in Wales and one of the few mountains on the British mainland requiring scrambling to reach the summit.
The route to the Glyderau commences from the shore of Llyn Ogwen, beside the A5, on a footpath at the back of Ogwen Cottage. There is a car-park and plenty of lakeside lay-byes. Alternatively, the "Snowdon Sherpa" offers seasonal bus services from Bangor and Betws-y-Coed, past Ogwen.  The range can also be accessed from the Llanberis Pass.