Broad Haven
Broad Haven (Welsh translation: Aber Llydan) is a favourite with bathers and watersports enthusiasts, with pubs, a shop, restaurant, cafe all in the immediate area. Broad Havens westerly facing sandy beach offers excellent conditions for kite-surfing, kite-buggying, windsurfing and surfing. There is a car park at the southern end of the beach opposite Haven Sports and a larger car park a small distance from the beach at the North End of the bay. It provides an ideal base if you are looking for a traditional seaside holiday but equally it is conveniently located for excursions to St. Davids, Haverfordwest, Milford Haven and the rest of Pembrokeshire. Ideal for walkers and cyclists the Pembrokeshire Coastal path and the Celtic cycle route (National cycle route 4) runs through the village.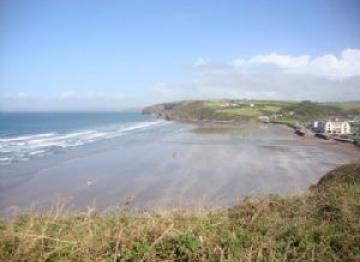 Broad Haven itself has one of the finest and safest beaches, the firm, golden sands being a paradise for children. They will delight in dipping their fishing nets into the numerous rock pools at either end of the beach. On the beach front there is a Londis shop that sells most things including newspapers, videos, fresh bread and alcohol. It is also the local post office. There are 2 good pub/restaurants on the front as well as surf hire shop and several cafes.  Nearest to Broad Haven are Newgale, Nolton Haven, Little Haven and Druidston Haven and Dale which has the reputation for being the sunniest spot in Wales.
Just around the corner from Broadhaven is Littlehaven.  It is undoubtedly one of the most delightful seaside villages in the whole of Wales. The settlement dates back to the iron age and was once a base for sea trading and smuggling. Nowadays the safe, sandy beach is well used by inshore fishermen, dinghy sailors, windsurfers and families carrying buckets and spades. The village is popular meeting place for visitors and local people with three pubs and a bistro.The annual regatta and raft races are renowned in the Pembrokeshire summer calendar and visitors are especially welcome to join in. A visit to Little Haven would not be complete without a walk along 'The Point' to the headland and the chance to watch the sun set over the restless Atlantic Ocean.