Swansea, Mumbles and Gower
This area has a multitude of attractions all within close proximity to the city of Swansea which is itself a 5 minute walk from the seafront. Swansea Bay inhabits a 5 mile stretch of the sea front and includes a Marina and the villages of Oystermouth and Mumbles, where you have a Victorian Pier and some very famous ice cream parlours.Further on around the coast is the beautiful Gower peninsula well known with its beautiful beaches and countryside as an area of outstanding natural beauty.
Swansea, Wales' Waterfront City enjoys a location that is hard to beat. It sits on the 5 mile sweep of Swansea Bay and most city centre attractions and shops are less than 10 minutes walk from the sea. At the west end of the bay is the pretty seaside village of Mumbles, complete with medieval castle, Victorian Pier and four famous Welsh-Italian ice cream parlours. If you follow the coast you'll reach the UK's first Area of Outstanding Natural Beauty, the Gower Peninsula. With 50-odd bays, coves and beaches, space is never a problem. Nearby you can discover the Vale of Neath. Nowhere else in Wales has such amazing waterfalls.  And, not forgetting some the world's finest mountain biking trails can be found at Afan Forest Park.
The wonderful and varied landscape of the Gower Peninsula (Welsh: Penrhyn Gwyr) was the first place in Britain to be designated as an 'Area of Outstanding Natural Beauty' (AONB) by the Countryside Agency on behalf of the UK government, and is one of only five within Wales. 2006 saw the Gower Peninsula celebrating its 50th year as an AONB, an accolade that has truly stood the test of time.
"The Gower peninsula was Britain's first area of Outstanding Natural Beauty and is located less than an hours drive from Cardiff and on Swansea's doorstep.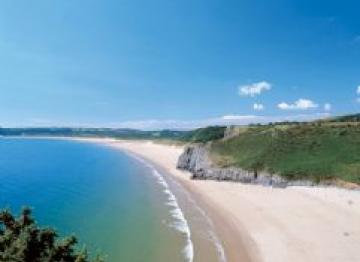 For beach lovers it has everything, tiny little bays, picturesque villages and a vast award-winning coastline, a haven for both nature lovers and the surf scene!
Within Gower's coastline lies no less than twenty beaches, ranging from stunning vistas of sand such as Oxwich Bay, Rhossili Bay and Whiteford Sands, which stretch for almost as far as the eye can see, to secluded coves, 'secreted' away amongst Gower's fascinating limestone cliffs.
One of my own favourites is Oxwich Bay, with its 2 mile beach, a local village, an old historic castle and camping sites all served  by the Oxwich Bay Hotel, which has a great range of food, drink and the occasional Welsh rugby star nearby! 
A trip to Rhossili is also a must see, the huge sprawling beach is unspoilt and spectacular and is at the western end of the Gower and if you ever got bored of the beaches then pop inland to the village of Reynoldston and the King Arthur Hotel for great views and something to eat and drink. "
James Emery 2010