Holidays in Southern Snowdonia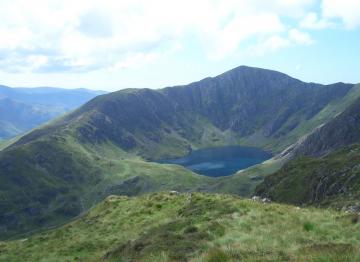 The highlands of Southern Snowdonia in North Wales are greener and rounder than those of rocky Snowdon – but they're still seriously mountainous. Dolgellau's Cadair Idris and the Aran and Arennig above Bala are lofty outposts, looking down across a landscape of traditional farmland, forest and outstandingly beautiful lakes.
Exploring Southern Snowdonia is pure pleasure. Quiet mountain roads twist and climb into high country, narrow-gauge railways run alongside lakes and through vales, and in the Coed-y-Brenin Forest there's world-class mountain biking and walking.
Dolgellau – the gateway to Southern Snowdonia
Dolgellau is situated in the southern part of the Snowdonia National Park, at the foot of Cader Idris Mountain and is an excellent center for touring Mid and North Wales.
View Self-Catering Cottages near Dolgellau, Southern Snowdonia
Tywyn
Tywyn is a small friendly town with a good range of shops and a weekly market during summer months. Families will find plenty to occupy children, an indoor swimming pool at the leisure centre, cinema, skateboard park, tennis and mini golf course.
Aberdyfi
Aberdyfi is a small yet stunning beach town with traditional pubs and spectacular views to fascinate you. It really is the place where the mountains meet the sea!
View Self-Catering Cottages near Tywyn and Aberdyfi, Southern Snowdonia
Bala
This bustling market town lies within the beautiful Snowdonia National Park and is located on the shores of Llyn Tegid, the largest natural lake in Wales and home to unique fish called the Gwyniaid. It is also home to watersports of all types that can be enjoyed with or without expert instruction - on Llyn Tegid itself and at the National White Water Centre, Canolfan Tryweryn (white knuckle rafting) etc. Beautiful walks, cycle paths and steam-train rides are also part and parcel of a self-catering holiday in Bala.
Beaches
Enjoy endless miles of sandy beaches all along the North West Coast of Snowdonia, North Wales, from Aberdyfi up to Barmouth and Harlech.
Things to see in Southern Snowdonia, North Wales
Slate caverns - Step back in time with Corris Mine Explorers as you explore the abandoned workings of an old Welsh Slate Mine.
Castles – Includes the majestic Harlech Castle, a World Heritage site and Castell y Bere in Abergynolwyn. You can also find traces of earlier occupation scattered around the hills, such as hill forts, stone circles and even a Roman amphitheatre.
Mawddach Estuary - The Mawddach Estuary is a beautiful and largely unspoilt gem hidden away at the southern end of the Snowdonia National Park.
Centre for Alternative Technology – Europe's leading Eco-Centre. Offering solutions to some of the most serious challenges facing our planet and the human race, such as climate change, pollution and the waste of precious resources.
Corris Craft Center - These workshops welcome all visitors whether to watch craftspeople at their crafts, join in, or buy their wares. There is something here for everyone.
King Arthur's Labyrinth - Sail along an underground river, through the great waterfall, and into King Arthur's Labyrinth, a world of mystery, legends and storytelling.
Activities in Southern Snowdonia, North Wales
Cycling in Coed y Brenin Forest Park, the world renowned mountain biking centre.
Narrow gauge railways - Dolgellau is in the middle of small gauge railway country, with lines at Ffestiniog and Portmadog, Talyllyn, Fairbourne, Bala, Corris and Welshpool.
Pony trekking - on the foothills of Cader Idris available from Abergwynant Farm outside Dolgellau.
Walking - It has been said that there is "no better walk than from Barmouth through to Dolgellau other than from Dolgellau to Barmouth". The views of the Snowdonia mountains sweeping down to the Mawddach estuary are phenomenal, an experience not to be missed.
The Mawddach Trail, featured on Julia Bradbury's 'Railway Walks" programme, winds for 9.5 miles (15km) along the disused railway track on the southern edge of the spectacular Mawddach estuary.
The Mawddach Way is a 3-day, 50km walk which uses existing footpaths and permissive paths to makes a circuit of the hills either side of the estuary, passing through woodland, pasture and open country.
Climbing and Mountain Walks – Look no further than Cader Idris!
Fishing - There are many great places to fish in the area with sea and estuary fishing, freshwater lakes and rivers.
Cregennan Lakes are owned by the National Trust, and are situated on the northern slopes of Cader ldris, some 800 ft. above sea level, overlooking the beautiful Mawddach Estuary, with car park and toilets, just 5 miles from Dolgellau.
Talyllyn is a natural 220-acre, shallow, Brown Trout Lake nestling in the southwest corner of the Snowdonia National Park and below the peak of Cader Idris. It forms the headwater of the river Dysynni that flows westwards for 10 miles before entering Cardigan Bay just north of Tywyn.
Golf – at Aberdyfi (Aberdovey), Machynlleth and Dolgellau Golf Club
Bird watching - RSPB Bird Reserve at Penmaenpool
Tours around Gwynfynydd Gold Mine, Dolgellau and slate mines at Blaenau Ffestiniog.
Dyfi Discoveries  - a small, family-run business based in Aberdyfi on the coast of Mid-Wales providing heritage and wildlife boat trips for the sight-seer and enthusiast alike.