Cardiff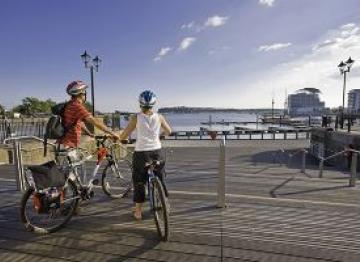 There's an air of excitement surrounding the capital city of Cardiff as it becomes ever more popular with visitors. It is an impressive city with a proud civic centre, a shopping centre which is a shopper's paradise where traditional shops co exist with brand  new shopping malls. With excellent transport into the city, Cardiff is easily accessible from anywhere in South Wales. The Millennium Stadium is Cardiff's premier sporting venue and well worth a visit. Cardiff is renowned for its cultural activities, there is a very active drama, music and dance scene with a number of first class venues across the city a whole range and variety of theatres, and concert halls. 
Make sure you visit the National Museum to view the art collection and you must take time to visit Cardiff's newest development in Cardiff Bay which is now the seat of modern government in Wales. You must visit the modernistic Senedd (Parliament) building and the Millennium centre which houses the world renowned Welsh National Opera  and Diversions Dance and plays host to world class musicals. Marry all of the above with the good hotels, restaurants and the lively night time scene and you want to return time after time
The Capital of Wales has enjoyed a major rebirth since its days as the worlds leading coal-exporting port. Nowadays there's a lot more to Cardiff then coal. Just recently a number of top venues have opened up making it one of Britain's most appealing destinations. Probably the most important new feature is the stylish new waterfront that runs along Cardiff Bay with many new hotels, restaurants and bars. Then there's Techniquest, the new Science Discovery Centre with 160 interactive exhibits, a planetarium, science theatre and a discovery room.
Other popular attractions in Cardiff include: the National museum and the Victorian Arcades (where you'll find some excellent shops). Not to be missed is Cardiff's famous castle. It was built ages ago during Roman times. In the nineteenth century it was recreated in medieval style by William Burges, architect to the Earl of Bute, as a fairytale residence. It's a fascinating structure, well worth checking out. The Waterbus operates throughout the year in Cardiff Bay giving visitors to the Cardiff a unique view of the City from the water.
The Waterbus sails between Cardiff's waterfront and the Penarth end of the Barrage.Passengers can visit the multi-million pound Cardiff Bay Barrage or if travelling from Penarth spend time at Cardiff's developing waterfront .
Things are different in Cardiff, the Capital of Wales. Within the compact city centre you'll find unique attractions, top class entertainment - and quality shopping with a difference. Innovative architecture sits alongside historic buildings, the bustle of the city centre is only a few strides from acres of peaceful parklands, and Cardiff Bay offers indoor and outdoor entertainment for everyone. Have a browse on this site to find out more information on attractions, events, downloadable maps, how to get to Cardiff and much more!