History of Wales
Wales - A proud and passionate nation
Wales possesses such a rich History that it is impossible to do it justice in a few paragraphs. Therefore, here are a few snippets to wet your appetite and get you ready for a dream holiday in Wales:-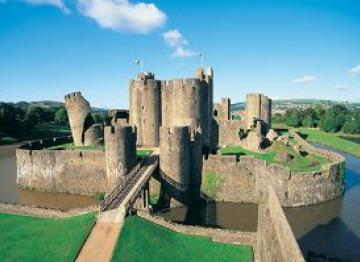 St David
St David's Day is celebrated on March 1, in honour of Dewi Sant or St David, our patron saint. 
Owain Glyndwr
No look at our history is complete without reference to Owain Glyndwr, the last native Welsh person to hold the title Prince of Wales. A descendant of the princes of Powys, in 1400 he instigated a brave revolt against English rule. Initially it was successful but the uprising was eventually quashed by the English. Glyndwr was last seen in 1412 and was never captured.He remained an important cultural figure. Shakespeare's Henry IV portrays him as a wild, exotic, magical and spiritual man.The nationalist movement always held him in high regard, but he is now a figure of mass culture in Wales, with everything from statues to pub names commemorating him.  Useful link: http://en.wikipedia.org/wiki/Owain_Glyndwr
Offa's Dyke
Offa was King of Mercia from 757 to 796 AD. His kingdom covered a huge area of England, right up to the Welsh borders at Powys but he realised his powers weren't going to get him far into the Welsh mountains, so he ordered a dyke to be built – from sea to sea. Offa's Dyke has more or less defined the Welsh / English border ever since. Much of the dyke is still traceable along the 80 miles from the Wye valley to Wrexham. In places it still retains most of its original impressive dimensions; in others it has disappeared due to 1200 years of agricultural activity and can only be detected by archaeological work.Useful link: http://en.wikipedia.org/wiki/Offa's_Dyke   
The Welsh Flag
Our national flag - The Red Dragon (or in Welsh Y Ddraig Goch) - was granted official status in 1959, but the dragon itself has been associated with Wales for centuries. Some say it's the oldest national flag still in use and that it was used by King Arthur and other ancient Celtic leaders. It is the only flag of the constituent countries of the UK not seen on the Union Flag. This is because after the Laws in Wales Acts in the 16th Century, Wales was considered to be a part of England. There have been proposals to include the dragon or the flag of Saint David on the Union Flag. It hasn't happened yet, but watch this space..!Useful link: http://en.wikipedia.org/wiki/Welsh_flag 
Welsh Not
The Welsh Not was a piece of wood hung around the necks of children who spoke Welsh in the 19th century. It was given to any boy overheard speaking Welsh and he would pass it to a different boy whom he overheard speaking Welsh. At the end of the day, the wearer would be given a lashing. It was used in some schools solely to discourage pupils from speaking Welsh, at a time when English was considered by some to be the only suitable medium of education.  
Castles
How would you like your castle? Concentric, square, restored, dilapidated, 10th century, 18th century…  Wales has been know as  'the land of the castles' and rightly so as there are 400 castles in Wales. By now many of these have been reduced to ruins, however 100 or so  still remain or have been restored.  Discover ancient castles where famous battles were fought and fortresses built to keep invaders at bay.
http://www.greatcastlesofwales.co.uk/
Myths and Legends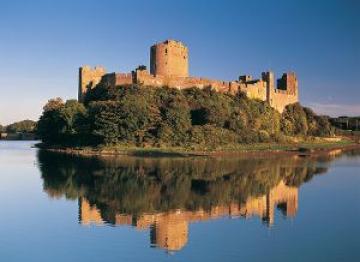 Tales of King Arthur and Merlin the Magician are inspired by Wales's wonderful landscapes and seascapes. Which may explain why Pembrokeshire in West Wales is still proud to be known as Gwlad hud a lledrith - 'The land of magic and enchantment'. King Arthur regularly appears in Welsh mythology.  Legend has it that Arthur killed a giant called 'Rhitta' on Mount Snowdon, and fought another fierce battle nearby at Bwlch y Saethau. Even now, he and his knights are thought to be sleeping in a cliff-top cave beneath Chepstow Castle.
Caerfyrddin (Carmarthen) is believed to be Merlin's birthplace and is named after him. Some way north, in the caves below the ruins of Dinefwr Castle, Merlin is said to have communed with fairies. More concrete evidence of the mythical king can be found in a valley in northern Pembrokeshire, where two ancient standing stones are known as 'Meibion Arthur' or Arthur's sons.
For more information on Arthurian legends in Wales, try the National Library of Wales