Cycling in Wales
Mountain Biking in Wales
With spectacular all weather singletrack trail centres like Coed Y Brenin, Cwm Carn, Afan Forest Park, Coed Llandegla, Nant yr Arian and Gwydyr Forest Wales has everything a mountain biker could want.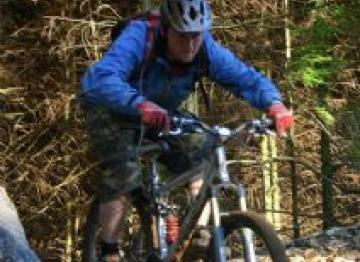 Mountain Biking Wales - Website 
Forestry Commission Wales's five world-class mountain bike centres were opened on March 12, 2003.
Since then their reputation has grown, transforming Wales into a mecca for mountain bike enthusiasts from far and wide, who bring millions of pounds into the Welsh economy every year.
Our trails include purpose-built, waymarked single tracks, gentle family routes and white-knuckle downhill rides – not for the faint-hearted!
Each trail is subtly different and has been designed to reflect its surrounding landscape and terrain, providing a varied and incomparable riding experience through some of the most beautiful high-country you'll find anywhere.
Here is a list of some of the top trails in Wales:
Coed y Brenin - After a £1.6 million renovation project Coed y Brenin offers a new, attractive, fully equipped visitor centre and five upgraded world class routes. Come and see the changes for yourself!
Nant yr Arian - The new purpose-built visitor centre enjoys a wonderful lakeside setting. Three single track bike routes offer breathtaking views. Relax after a hard cycle and watch the daily Red Kite feeding in a unique environment.
Afan Forest Park - A purpose-built visitor centre with superb facilities. Cycle hire. One family cycling and two bike trails: Penhydd Mountain Bike Trail, The Wall. Fishing and camping are also available.
Glyncorrwg - This centre has superb facilities and features two routes - the difficult Whites level and infamous Skyline mountain biking challenge, for those with nerves of steel. Fishing and camping are also available.
Cwmcarn Forest - Offering something for all the family - two exhilarating single track mountain bike trails with staggering views, a fishing lake and walking trails. Relax at our visitor centre or enjoy a barbecue after your cycle.
Garwnant - Verging on the Brecon Beacons National Park, Garwant is suitable for both novice cyclists and families. The trail passes through mature Douglas Fir woods and alongside a reservoir. Frequent fun activities for families and adventure playgrounds at the Visitor Centre.
Brechfa - Brechfa's high plateau like top and deeply cut river valleys offer both a family trail (the perfect 'taster' route) and the top class technical Gorlech trail designed by Rowan Sorrell.
Glasfynydd - A beautiful picnic site with 9km circular bike route around the Usk reservoir, suitable for families with children 5yrs +. Admire views of the Black Mountains while skirting the reservoir and dam wall.
MarinOn the steps of Snowdonia, this mountain bike trail runs from forest to exposed ridges, allowing you to take in the awesome scenery while dealing with this technical and very challenging trail.