Literature, music and poetry
Literature
A tradition of storytelling
We Welsh love to talk, so it's not surprising our literature all stems from the storytelling tradition. We have a real love of language and a thriving literary culture, in both the Welsh language and in English (called Anglo-Welsh literature). To make sure we celebrate our literature, we're home to the world's most famous literary festival - Hay-on-Wye. It attracts high profile names from the literary world from all over the world each year.
Poetry
Our oldest surviving poetry dates from the sixth century – predating all European literature except Greek and Latin. Welsh poetry developed as an oral art. This led to cynghanedd (harmony), a very complicated system of alliteration and internal rhyme, still rewarded today at the National Eisteddfod.
In mediaeval times Welsh bards or poets played a social role; their job was to praise their lords and masters, often the Welsh princes. This tradition lasted from the 6th to the 16th century. Dafydd ap Gwilym - a 14th Century poet – was a bit different from the rest. He wrote on everyday themes and in common language. He is considered a true revolutionary and still holds his own among the great European poets.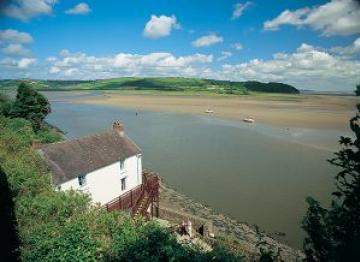 The Thomases
Probably our two most famous Anglo-Welsh poets are Thomases. The most famous – or maybe infamous - literary figure to come from Wales is Dylan Thomas. His poems and short stories, and in particular his 'play for voices' Under Milk Wood, work best when read out loud, taking us back to our oral traditions. He had no illusions or romanticism about Wales, calling his home town of Swansea an 'ugly, lovely town'.RS Thomas is perhaps not as well-known, but many believe he has been more influential. He died at the age of 87, in 2000. He wrote over 30 volumes of poetry, was translated into many languages and was nominated for the Nobel Prize for Literature in 1996.
Modern times
More recent writers to come from Wales include the children's favourite Roald Dahl, who died in 1990 and who was born in Cardiff to Norwegian parents. Sarah Waters, shortlisted for both the Booker and the Orange prize for her novel 'Fingersmith', is probably our most critically-acclaimed novelist writing today. Other popular novelists include Niall Griffiths, Jasper Fforde, Malcolm Pryce and Rachel Trezise, whilst English language poet Owen Sheers is making a name for himself internationally.Welsh language poetry continues to thrive too, with the success of poets like Menna Elfyn, who is translated widely, and Twm Morys, son of the celebrated travel writer Jan Morris. Popular Welsh language novelists include Caryl Lewis and Bethan Gwanas.
The Mabinogion
These medieval Welsh folk tales are considered Wales' greatest contribution to European literature. They came to prominence in the mid 19th century, when Lady Charlotte Guest published her translation under the title The Mabinogion. But the tales are themselves much older than that. It is believed that some were written as early as the second half of the 11th century and that some might be even older. The tales themselves are set in a magical Wales full of heroic men and beautiful women and feature tales of King Arthur and Merlin.The National Library of Wales A mountain of knowledge about Wales and the world - millions of books on every subject, thousands of manuscripts and archives, maps, pictures, and photographs, films and music, and electronic information.
Music
Whether we can sing or not we'll certainly give it a try. And that's perhaps why Wales is referred to as The Land of Song.
In school we're encouraged to sing and to compete in the eisteddfodau - cultural competitions held across Wales involving singing, dancing, reciting, acting and more.
All our celebrations seem to revolve around singing too. If you've ever watched Wales play rugby you'll notice our crowds tend to win hands down when it comes to singing, even if we don't always win the actual game. Our national anthem, Hen Wlad Fy Nhadau (Land of my Fathers), getting the loudest and most tuneful rendition.
Those of us not blessed with great singing voices may have a go at an instrument instead. The harp is probably most traditionally associated with Wales, and today artists such as Catrin Finch are bringing it right up-to-date. There are still many musicians keeping our folk tradition alive, arranging and performing traditional melodies. You might even get to hear someone playing the unique crwth (form of stringed lyre) or pibgorn (wooden pipe). 
Of course we can't talk about Wales and music without getting to our male voice choirs, famous throughout the world. Probably the best known today are Treorchy and Morriston Orpheus male voice choirs, and seeing them perform is a real treat. More recently, Froncysyllte's choir has come into the limelight - there is even talk of a Hollywood film being made about it. 
All in all, for a small nation, we have bred some pretty influential musical figures, many of which have gone on to international stardom. From opera stars like Bryn Terfel and Sir Geraint Evans to music legends like Sir Tom Jones and Dame Shirley Bassey – we've certainly done our fair share for the international stage. 
In more recent years we have produced some hugely successful rock and pop bands too. Manic Street Preachers, Stereophonics, Feeder and Super Furry Animals are just some of the bands who have appeared in recent years and who are still going strong. 
There is also a thriving Welsh language music scene - today's big acts include Euros Childs, Mattoidz, Genod Droog, Frizbee and Radio Luxembourg, many of which are influential far beyond Wales, though not part of the mainstream music scene. And old timers such as Bryn Fon, Meic Stevens and Dafydd Iwan are still going strong. 
As you can see, we're pretty hot on the music front. So when you hear someone belting out a tune, don't be afraid to join in. It's not about being able to sing, more like who can sing the loudest!
Useful links
http://en.wikipedia.org/wiki/Music_of_Wales  
http://www.guardian.co.uk/travel/video/2009/oct/21/cardiff-music-tour