Weather in Wales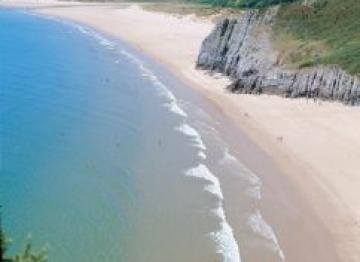 If you have been on a vacation in Wales you will have a noticed that Wales has a temperate climate. This basically means that it never really gets very hot and never gets really cold. The best times to visit is during the summer months. May, June, July and August are generally the sunniest and driest months. During the winter it can rain quite a bit, but temperatures rarely drop below zero. They're normally between five and seven degrees. A raincoat and a thick jumper will usually cope with the worst that the weather has to offer.We must be honest here - our weather is unpredictable.
Sure it rains. But that's why our grass is so green. And the beauty of Wales is that the closeness of the mountains and coast means that the weather can change quickly, and within very short distances. It could be raining in one village whilst the next one along has glorious sunshine.
Let's get the rain bit out of the way. Most of it comes in autumn and early winter, with the worst downpours between October and January. It's really not much different from the rest of the UK.
Our winter days are short, with snow almost guaranteed. But the sight of pure white snow on the tops of the Brecon Beacons or Cambrian Mountains is really not to be missed.
And after January, when the weather starts to improve and the days get a little longer, it's a great time to get out those walking boots and head for the hills.
The warm weather comes early in places like Pembrokeshire, which is why it provides the first new season potatoes around the UK. Dale, in the far west, is one of the sunniest places in Britain with over 1,800 hours of sunshine a year.
Temperatures across Wales usually make it to the 20°Cs (70°Fs) in the summer months when the sandy, white beaches really come into their own.
Useful links
Vacation Accommodation in Wales